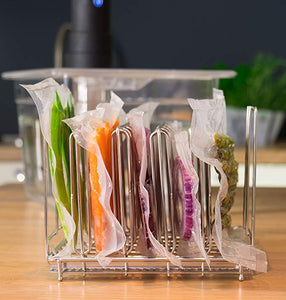 Organize the sous vide bags with weight-added stainless steel dividers by stable mount on the base. W7.25" x D6.25" x H5.25", 26Oz.

7 removable dividers hold up to 6 sous vide bags of different width which are filled with steak, veggies, shrimps and more

18/8 stainless steel base and dividers, FDA Approved, always keep food sunk in the water

No More Wobbly Dividers - The dividers are mounted to the base stably. A much better improved solution than a rack whose dividers are just simply inserted wobbly into the base.

Compatible with Rubbermaid, Cambro and Lipavi C10 containers, stainless steel sous vide pots.